Gandhi – The warrior of peace

Heure: 19:30 à 21:15
Date: Vendredi 01 Novembre 2019
Lieu: 6768 Rue St-Denis, Montreal
Pour nous joindre: tél. 514-342-9842, montreal@acropole.ca
Commemoration of the 150th Anniversary of the birth of Mahatma Gandhi
To commemorate the 150th anniversary of Mahatma Gandhi's birth, New Acropolis Montreal (along with several New Acropolis centres across the world) honors the memory and legacy of Gandhi: a universal figure, respected by generations of people, who exemplifies spiritual values of peace and universal brotherhood that New Acropolis also promotes throughout the world.
What can we learn today from the life of Gandhi?
He was a great leader who inspired millions of people around the globe. His approach to promote peace and social justice through his own life make Gandhi a timeless example for all those who want to improve the world. His entire life was dedicated to truth and justice for all human beings, to changing the world where he was. He embodied great spiritual wisdom and was able to transform himself through service to others and by promoting understanding and dialogue between nations.
New Acropolis Montreal invites you to participate in a lecture followed by a round table discussion on November 1st at 7:30pm.
----
The lecture will be given by our special guest, Parth Doshi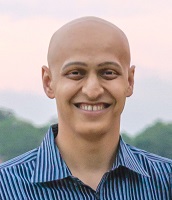 Parth Doshi was born in Mumbai, India.
Even though Parth was raised in a Jain community, from a young age, his outlook on life was more spiritual and philosophical than religious. Throughout his life, his search for wisdom on how to live life with depth and meaning never left his side, no matter where he was - his early years in India, travelling internationally at the age of 13 and competing in the sport of Squash, getting his degree at the prestigious Williams College in MA, USA and consulting in IT in Boston.
In 2007 he met New Acropolis in Boston and immediately discovered his passion for applied Philosophy as a path to give meaning to everything we do and make a sustainable change in oneself and in the world. This led to him discover the life and wisdom of Gandhi from the lens of Gandhi's inner transformation, so essential and relevant for all of us today.
Professionally, Parth continues consulting in the IT industry and is also an instructor and Director of New Acropolis in Toronto.
----
*** The lecture will be given in English. If you need simultaneous french translation, please let us know by writing us by email beforehand.